Oslo Go Club has the pleasure to invite everyone to the Nordic Go Championship 2018, played over the Easter Weekend, the 30th of March to 1st of April.
The tournament is open for everyone.
Tournament information
Tournament system: 6 rounds MacMahon
Rule system: EGF rules with 6 1/2 komi
Playing time: 80 minutes main time, Canadian byo-yomi with 15 moves in 5 minutes
Tournament fee, normal: 400 NOK
Tournament fee, students and retirees: 200 NOK
Tournament fee, players below 15 years of age or first tournament: Free
Schedule (tentative)
Friday March 30th
Saturday March 31st
Sunday April 1st
10:00 – 10:50 Registration
11:00 Round 1
15:00 Round 2
10:00 Round 3
14:00 Round 4
09:00 Round 5
13:00 Round 6
16:30 Awards ceremony
Location
The tournament will take place at Oslo Bridge Center located at Lørenveien 68.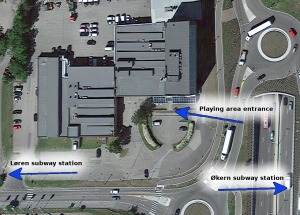 The entrance to the playing area is on the southern end of the building, we'll be putting up a poster or two by the door to show you which door to use.
Getting there
Easiest way to get there from downtown Oslo is by subway line 4 to Løren subway station or line 5 to Økern Subway stop, and from either station it's a short walk. You can find the subway schedule at www.ruter.no .
During the Easter weekend there will be quite a lot of maintenance on both trains and subways in the Oslo area. Make sure to keep this in mind when planning your trip to the venue, and plan some extra time for the journey.
Food
During the tournament there will be free tea and coffee for everyone.
There is a bakery nearby that might be open for lunch on Friday and Saturday, but most probably closed on Sunday. Hard to say with it being Easter. At the venue we also have a fridge at our disposal, for those that want to bring along some lunch food.
For dinner, after the second round on Friday and Saturday, we'll be ordering pizza. There is also an Indian place (http://www.sanjays.no/) nearby for those that prefer that instead of pizza.
Accommodation
We will try to offer private accommodation to everyone who wants this. If you desire accommodation make sure to note it on the registration page, and we'll see what we can do.
Registration (non-binding)
Register on the registration page or contact:
– Oslo Go Club: oslo.goklubb@gmail.com
– Michael Plikk: 415 10 785
– Jon Runar Melting: 91 60 27 39
Registered players